Original image by 

wintercool612
This is a list of 15 bands that I see 'breaking out' and reaching out to wider audiences in 2012. If they happen to be playing in your corner of the world then I would seriously recommend you check them out in the coming year.
The list covers a range of artists from those who have been around for a while and have achieved a certain level of fame playing big music festivals and/or opening for established bands in 2011 to those who only have a handful of songs out at the moment.  What's common to them is that they all are making some of the most exciting music as we speak.
This is not a critics list of the best new bands rather it's a fans list of emerging bands that I love and hope to see reach out to a broader  spectrum of music lovers in 2012.
Based in:  Seattle, Washington
Band Members: Josiah Johnson (vocals, guitar, percussion), Jonathan Russell (vocals, guitar, percussion), Charity Rose Thielen (vocals, violin, percussion), Chris Zasche (bass), Kenny Hensley (piano), Tyler Williams (drums)
A number of you may have already heard of these guys but I believe their magic needs to spread wider and touch a lot more people. I can still recall getting goosebumps all over the first time I saw a video of The Head and The Heart perform Down In The Valley towards the start of 2011.
Even at that early stage in their career as a band (they formed in 2009) it was clear that THATH possessed that magical quality, one that draws you into their music and makes you a part of the entire experience.  It's impossible to see this band perform live and not be affected (emotionally and even physically) by their music and I say this after only watching their videos on Youtube!! Once they figure out how to capture the magic of their live sound in a studio environment (something they didn't quite manage on their self titled debut album) they'll be a truly great band.
Nonetheless, it has been a joy to watch this band grow over the course of last year, from playing little venues and parking garages to performing at Bonnaroo – all with the same passion, verve and intensity.
THATH head out on their first headlining tour in March 2012 so be sure to catch them and experience their magic.
Artist Links: Website | Facebook | Buy Music
Based in: Bowling Green, Kentucky
Band Members: Alex Kandel (vocals), Tony Smith (guitar & vocals), Justin Wilson (drums), Lee Williams (bass), Scott Gardner (keyboard), Josh Martin (lead guitar)
This talented young sextet delivers crisp, tasty, boisterous rock n roll with a consummate ease that belies the fact that they've around as band for only about a year. Sleeper Agent has the versatility to sound blissfully raucous on short and crisp songs like my favourites Get It Daddy and Proper Taste; as well as make slower, endearing melodies like That's My Baby. All of which makes their debut album Celabrasion an engaging listen.
While they don't break any new ground, their music is presented without pretension and gimmicks and I guess therein lies a part their charm.
Artist Links: Website | Facebook | Buy Music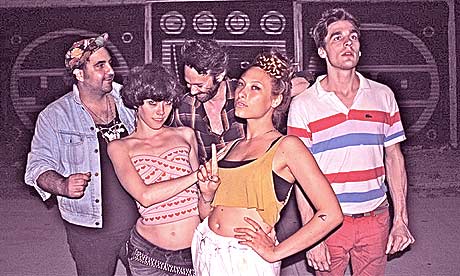 Based in: Brooklyn, New York
Band Members:  Samantha Urbani (vocals), Lesley Hann (backing vocals, bass, percussion), Oliver Duncan (drums), Nikki Shapiro (guitar, keyboards, percussion), Mathew Molnar (bass, percussion, keyboards)
I stick by what wrote about this band in 2011, 'Friends makes funk edged indie pop that whilst polished retains a certain lo-fi vibe. This sound combined with the sultry vocals of gorgeous front-woman Samantha Urbani makes Friends definite band to watch in the near future.'
The handful of songs that the band released in 2011 were well received and with an album slated for release in the first half of 2012 they should move on to bigger things.
Artist Links: Website | Facebook | Buy Music
Friends – I'm His Girl by LuckyNumberMusic
Friends – Friend Crush by LuckyNumberMusic
Based in: Los Angeles, California
Band Members: Asa Taccone (vocals), Mathew Compton (drums)
Electric Guest' brand of electro psych soul pop is the kind of pop music that I wish we would hear more of on the radio; the kind that gets you moving without cringing.
There is something so immediate and alluring about songs like American Daydream and Under The Gun that they refuse to leave your consciousness once they enter it (err atleast in my experience).
Their debut album Radical Miracle Mondo is being produced by Danger Mouse and should be out soon so keep an eye out for it and if you're in the LA area go catch them live cos they're worth it.
Artist Links: Website | Facebook
American Daydream by ElectricGuest
Based in:  Montreal, Canada
Band Members: Alex Zhang Hungtai
Of all the artists on this list, the COOL tag fits Dirty Beaches and his music the best. The blend of lo-fi, retro rock n roll and experimental rock on his album Badlands lends the music a noir quality and listening to it can be quite a mind altering affair :). Sample a little bit of it below.
Artist Links: Website | Facebook | Buy Music
To move to the next page just click the page 2 button below the social share buttons!